Sunrooms Hayward, CA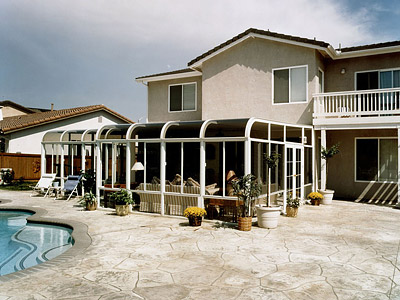 Sunrooms are great additions to homes because of the great benefits they can provide. They create additional functional spaces and improve the aesthetic look of an entire property. When designed and built by professionals, these structures can become the perfect spots for rest and relaxation, great family bonding, and weekend get-togethers. And if these benefits excite you, please call us at C-Thru Sunrooms No Cal. We are experts when it comes to sunroom design and installation. In fact, most homeowners in the Bay Area prefer us for our lengthy experience in this field of home improvement. We can expertly handle clients' design requirements and put them into carefully built outdoor living spaces. You can see some of our outstanding creations in Hayward, San Leandro, Alameda, Union City, Fremont, Newark, San Ramon, Oakland, Berkeley, and Dublin.
We urge you to give our friendly and knowledgeable team a call today on 510-363-5547 so we can inform you about some of our customized sunroom designs. Our straight eave and curved glass sunrooms are two of the most popular designs in our collection. We are confident that you will find one that will perfectly match with your requirements and design preferences.
Stunning and Long-lasting Sunrooms
Our installation team can create beautiful sunrooms that are also functional and sturdy. We only use the finest materials available to ensure the structural integrity of every sunroom that we build. They are guaranteed to withstand extreme weather conditions and protected from early deterioration because of the top-quality materials we use. From the flooring materials to windows and roofing, they are all quality checked and sourced from leading suppliers.
We also use the latest technology when creating sunrooms for our clients. Since they are all custom built, we can easily add new features and other amenities to give our clients the best outdoor living spaces. For example, we use thermal breaks and specially insulated double-pane glass when creating all-season sunrooms. These features will allow you to save on heating and cooling costs. Your security is also our prime concern, so we make sure that your sunroom is fully secured by installing modern security features, advanced sashes, and strong door handles, just to name a few.
Our fast and seamless sunroom installation is another reason why we are the preferred contractor by most homeowners in Hayward, CA and surrounding areas. We have established a system that allows us to build sunrooms in a fast and efficient manner. We also have highly experienced crews who are equipped with the right tools and equipment. They are skilled and knowledgeable of the latest construction methods, so they can build sturdy structures that can last for generations. They can also complete the project on time even if it involves the construction of a large and fully furnished sunroom.
Trust the Expert Sunroom Builders in Hayward
Sunroom construction is a home improvement project that must be handled by expert people. If you want a worry-free sunroom installation, trust only in the most sought-after contractor in the Hayward area -- C-Thru Sunrooms No Cal. We have a lot of outstanding projects in the state that we can show you as proofs of our competency and expertise. Call us now at 510-363-5547 to learn more about our design and build services. With us, you'll be amazed at how we create beautiful sunrooms that will suit your budget.
We Serve the Entire Bay Area Including:
And the following cities: