Sunrooms Hayward, CA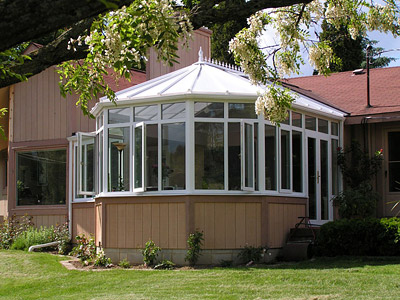 If you are looking for an experienced designer and builder of conservatories and solariums, you've come to the right place. C-Thru Sunrooms No Cal has been building these home additions for more than 15 years now, and we are proud that all our clients in the Bay Area are more than satisfied with the results of our workmanship. Most of our clients come from Oakland, San Leandro, Alameda, Union City, Fremont, Newark, San Ramon, Dublin, Milpitas, and Berkeley.
Please call our hotline now and let us talk about this exciting addition to your home.
Exquisitely Designed Conservatories
All the conservatories that we have built for Bay Area clients are known for their extraordinary designs. Our artisans can always come up with unique designs based on our clients' ideas and preferences. We sit down with clients so we can perfectly create the new living spaces that they envision. Aside from the overall design, we also consider the amenities that they want included during the installation process. This way, we can maximize the area and make the necessary adjustments on our design plans.
We have three design categories for our conservatories. You can choose from our Gregorian, Edwardian or Victorian design plans. If you are not familiar with these types, we can help you choose the design that will best suit your home's architecture. Our creative team will make sure that you'll get a stunning conservatory that is customized according to your needs and desires.
Beautiful Home Additions Built by Experts
Conservatories are popular additions to homes in Oakland and other cities in California because of the additional spaces that they can provide. And aside from creating a new living space, a conservatory can also help improve the overall aesthetic appeal of your home. It can become the centerpiece in your home when designed by knowledgeable people and installed by experienced contractors like us at C-Thru Sunrooms No Cal.
We always aim for the complete satisfaction of our Oakland, CA clients, so we make sure that our creations will be stunningly beautiful and highly functional. Our conservatories are made from the finest materials and built by artisans who have decades of experience in this craft. The products and materials we use come from the leading suppliers and manufacturers in the country, so you are assured that they can last for decades. We also adopt modern technologies when working on this type of project. We use specially insulated double-pane glass, thermally broken aluminum framing, and other innovative products to give clients a new living space that is comfortable, beautiful, and energy efficient.
Let C-Thru Sunrooms No Cal create your dream conservatory by calling us right now at 510-363-5547. We possess all the qualities that you need from a home improvement contractor. We have the experience, the needed resources, and highly skilled people who have extensive experience in building different types of conservatories. And the best thing about hiring us is that we offer our design and build services at competitive rates. We are confident that our budget-friendly rates and customized packages will convince you that we are the right company to call.
We Serve the Entire Bay Area Including:
And the following cities: