Alpha Sunrooms
Are you looking for a 3 season sunroom that is stylish and easy to install? Do you have a limited budget for your planned outdoor living project but still want to have a cozy place to relax? If yes, please call us. We have the right products for you. C-Thru Sunrooms of Northern California is a well-experienced sunroom installer serving the Bay Area and nearby locations for several decades now. Our products are sourced only from the best manufacturers in the industry to give you beautiful and long-lasting outdoor living amenities. We also make sure that our product offerings can suit the needs and financial capabilities of our clients. For budget conscious customers, we highly recommend our entry level sunrooms. Alpha Sunrooms are sought-after by most of our clients for their conventional designs but excellent and innovative features. They are priced reasonably so you won't have to worry about spending beyond your set budget.



Sharon T., Concord, CA

Project Date: 8/11/2018

Rating: 5.0





A city worker came by for the final inspection. He told me the cement was the best he has ever seen. He also noted the actual structure installation was one of the best he has ever seen. The workers were neat and polite and very informative.

Please call us now at 707-850-9574 to inquire about our Alpha Sunrooms and client-friendly installation rates.


Alpha Sunrooms - Simple But Tough
The classic look of our Alpha Sunrooms is one of the reasons why a lot of property owners choose this model for their new outdoor living space. Aside from its excellent features, the Alpha sunroom is also designed to last a lifetime. It is made from the finest materials and manufactured using the latest technology. Please take a look at some of its salient features:


Durable wall system. Alpha's 3 1/2 aluminum wall system is one of the toughest wall systems for sunrooms. Its structural performance has been tried and tested by countless satisfied clients around the country. When used for fixed picture windows, it can resist up to 150 mph wind speed. It is made from low-maintenance materials and can last for years with its durable design. The wall system also features C-thru Sunrooms' Tuff Core and Tuff Skin.


Proprietary SmartGlass. Clients can choose from the different glass options for their Alpha Sunrooms. They can choose single pane glass if they are on a shoestring budget or opt for a more efficient glass pane with high insulating capabilities. The best glass option that we recommend is the SmartGlass 60. It is a high performance Lo-E dual glass pane that can control up to 70% of visible light and has a higher UV resistance.


Solid insulated roof. C-thru Sunrooms has an exclusive roof system that is proven tough. WeatherGuard is made from heavy duty materials and insulated to give you maximum protection from the elements. It is available in 3", 4", and 6" thick roofs so you can choose the right roof system based on your location's climate. Elegant design is another key feature of the WeatherGuard roof system. You won't have to worry about exposed screws, unattractive obstructions in the ceiling, and water leaks because of the patented roof snap locking system.


Trust the Experts in the Industry
A property improvement project usually involves a huge budget so you need to choose the best sunroom brand and hire installers with decades of experience in the industry. At C-Thru Sunrooms of Northern California, we can guarantee the outstanding installation of your chosen sunroom model. Whether you choose the high-end models or the entry level Alpha Sunrooms, rest assured that they will be built by expert people with extensive experience in sunroom installation. Call us today.




Qinghua Zhao and Yunxia Huang

Rating: 5.0





Dear Dennis,
We love our new sunroom!
We wanted to let you know we really appreiate our installer, Jackie Richardson. Although our project had a rocky start, your staff managed to work closely together with our friend/translator and ended with a smooth finish with jackie.
Jackie was professional and was a joy to have around. We can tell he truly enjoys his work because he worked tirelessly during the installation while always having a positive attitue about him. Best of all, the quality of his work and his attention to detail really show in our completed sunroom!
Please accept our thanks for sending such a wonderful person to install our sunroom!
Sincerly,
Quinghua Zhao and Yunxia Huang
Product Features & Benefits
Standard Features:
- Alpha room is a 3 1/2" thick wall system that is ideal for 3 season use.
- All Alpha windows and doors are painted structural aluminum.
- All operable windows are double sliding and have fully removable screens.
- Screen Room has fixed non removable screens.
- The Alpha sunroom is exclusively made and built in Corona, California in the USA!
- White paint is powder coated and applied to AAMA specifications.
- All windows and sliding doors have equal site lines for architectural consistency and overall curb appeal.
- All structural member framing is painted aluminum 6063-T6 hardened alloy.
- All glass is standard C-Thru exclusive, Duralite Glass, with only minimal exceptions.
- Areas above and below windows and doors are standard solid insulated panels.


Available options:
Doors Options
· 3' x 6'8" full view swing door
· 6' x 6'8" French swing doors
· 6' x 6'8" sliding door
· 8' x 6'8" sliding door

Glass kick plates, transoms & trapezoid options
· Glass kick plates 12" or 24" tall
· Transoms 12" or 24" tall
· Trapezoids customs size to order

Electrical options
· UL listed Electrical loadbearing header
· UL listed electrical utility mullions
· Interior outlets
· Exterior outlets
· Porch lights
· Light switches
· Ceiling fan/ light race way.

Misc. options
· Tuff Skin
· Solar screens
· Colors, White Only



Alpha 3 1/2" Wall
(Cross Section)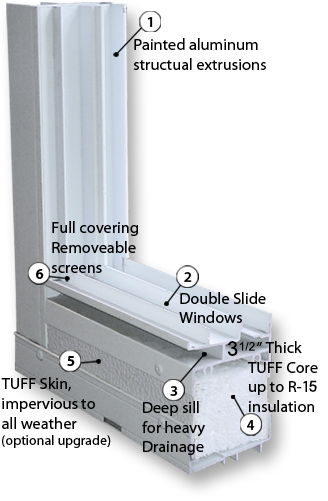 The Alpha 3 1/2" aluminum wall system is our original wall system first released in the 1960's. Since then, we have made many refinements to the product, yet the concept of an affordable way to add space hasn't changed. It is ideal for 3 season usage and its tuff and durable design will last you years with just a little maintenance. It is very conventional while adding value to your home.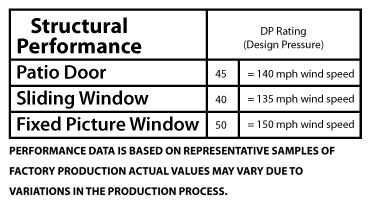 Solid Insulated Roof
(Cross Sections)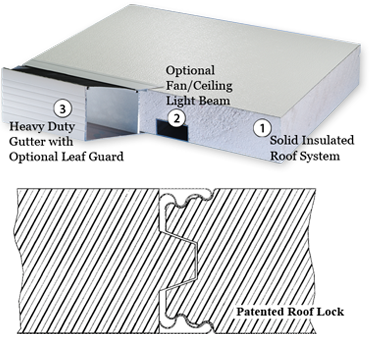 The WeatherGuard structural insulated roof system is C-Thru's own exclusive roof system. This patented roof system comes available in 3", 4" and 6" thick roofs allowing you to design your sunroom for your particular weather climate. Whether it's hot and sunny most of the time or if the deep snows of winter are your concern, our WeatherGuard roof is your solution.

When it comes to elegance no one can beat our WeatherGuard roof system's great looks. Because unlike most other industry standard roofs, C-Thru's roof has a patented snap locking system (joining the roof panels together) eliminating exposed screws and unattractive obstructions in the ceiling. Our exclusive patented snap locking system designed with internal weep channels helps prevent unwanted water from leaking in to your room. Making it hands down the industries most sate-of-the-art system.

WeatherGuard insulated roof options
· 3" thick roof
· 4" thick roof
· 6" thick roof



Glass Opt.

Other than the framing and solid insulated areas, a sunroom is made almost of all glass. With this in mind, glass is one of the most important features to choose correctly when designing your new sunroom. C-Thru offers five unique glass options in its proprietary SmartGlass ™ line. Starting with the SmartGlass 30, it's our most economical option. This is a single pane glass with the least amount of insulation. Our more energy efficient glass option is our SmartGlass 60. This dual pane high performance Lo-E glass is considered to be the "Best Value" when taking insulating abilities and cost into account. However you chose is yours, scroll down the page to learn more about what Smart Glass package will work best for you.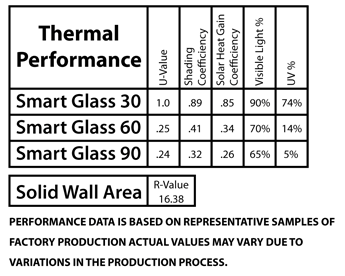 Single pane Glass options
· Smart Glass 30
· Smart Glass 40

Dual pane Glass options
· Smart Glass 30+
· Smart Glass 60

*Not all glass options are available for every product. Contact your local authorized, independently owned and operated C-Thru dealer for more info.




DuraLite

Safety is also a paramount concern when surrounded by so much glass. C-Thru's exclusive DuraLite™ Glass is 8 times stronger than standard residential glass and is strong enough to withstand impacts without breaking or scratching. DuraLite glass is stronger than laminated and safety glass to protect against accidental breakage. Duralite is standard on all rooms on both single and dual pane windows.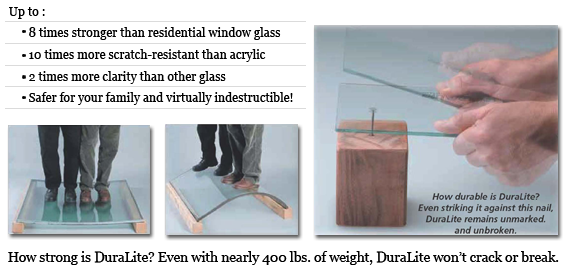 TuffCore

C-Thru Sunrooms are engineered to be energy-efficient to help control your heating and cooling bills. Along with using SmartGlass™, C-Thru uses Tuff-Core™ wall panels and WeatherGuard™ roof panels. These panels are made of a highly-energy-efficient materials. 3" of Tuff-Core™ has as much insulation as 8" of fiberglass to help regulate the temperature inside of your sunroom. Tuff-Core™ wall panels also feature Tuff Skin™, which is a scratch and dent resistant material.


We Serve the Entire Bay Area Including:
And the following cities: