Omega Sunrooms
If you wish to enjoy the scenic beauty of your outdoors any time of the day, you need to install a sunroom or a 4-season room in your home. It will not only provide you with a new living space but also dramatically improve the aesthetic appeal of your entire property. And here at C-Thru Sunrooms of Northern California, we only recommend the best sunroom models to let you enjoy their outstanding benefits for years. We also use and install products that have been tested durable and highly functional by countless clients around the country. On top of our list are the Omega sunrooms from C-Thru Sunrooms.



Nicole P., Santa Clara, CA

Project Date: 5/20/2018

Rating: 5.0





So glad we came across this company during our searches for a pergola. Many quotes came in higher & didn't offer the terrific warranty they do here. Initially we were quoted about 6-8 weeks but they were able to get us in much sooner. We first just hired them for an open pergola on the side of our home. After looking into updating our covered patio area also we went ahead & contacted Marco who was able to accommodate our time frame & budget. They were able to get both area done within a few days. The installers were very efficient & tidy. Definitely would not hesitate contacting them again for another other work. Professionalism all the way!

Our company has been helping clients realize their dream outdoor living space with the elegantly designed sunrooms that we can customize and install. For decades, we have been the top choice of most customers in the Northern California area for our top-quality products and services. Among the brands we carry is C-Thru Sunrooms - the leading sunroom manufacturer in the country. It has more than seven decades of experience in the industry, so you are assured of the quality of each product they offer.


Elegant Designs and Top Performance
Combining beauty and functionality is the expertise of C-Thru Sunrooms. The company has been known for its creativity, innovative products, and ability to capture the needs and desires of its target clients. From entry-level product lines to world-class sunroom models, the company has always maintained the quality of all the products it offers. They are always one step ahead when it comes to innovation and product enhancements. In fact, the sunroom kits they offer are packed with excellent features. If you're after elegance, durability, design flexibility, and energy-efficient rooms, you need to choose Omega sunrooms.


Revolutionary Features and Product Certifications
Every sunroom product that we offer to clients is packed with excellent features and designed to amaze people. The Omega sunrooms, for example, are made from the finest materials and built by artisans using modern technologies. Quality tests are also performed to ensure the quality, reliability, safety, and functionality of the sunroom.

Here are some of the features that you will surely love when you choose Omega sunrooms:


Tough and Energy-efficient glass. The roofing and windows of Omega sunrooms are made from C-Thru's Smartglass and DuraLite. These materials have excellent insulation capabilities and are proven tough and durable.


Thermal cladded wall system. The 4" thick wall system use thermal cladding to ensure maximum insulating capabilities. It is considered as the most energy efficient wall system for sunrooms.


All-weather solid insulating panel. Omega sunrooms can easily beat the competition with their solid insulating panels. TuffCore wall panels offer superb insulating capabilities and help regulate indoor temperature. Meanwhile, the WeatherGuard roof panels use C-Thru's patented snap locking system for easy installation. It also improves the look of your roofing, prevent water leaks, and provide better insulation.


Installed by Expert Sunroom Installers
Don't think twice about getting the services of professional sunroom installers like us at C-Thru Sunrooms of Northern California. We have seasoned people and the best products, so you won't regret hiring us for your sunroom design and installation project. And lastly, choosing Omega sunrooms is always a great idea because of the product's outstanding features and elegant designs. Please contact us now at 510-889-7100 during your most convenient time.



Product Features & Benefits
Standard Features:
- The Omega room is a 4" thick residential wall system providing maximum structure and insulation, ideal for all seasons.
- All Omega windows and doors are AAMA approved NFRC certified.
- Thermal cladding covers up ugly screws and messy caulking + thermally insulates from outside temperatures without sacrificing structural integrity, another C-Thru exclusive.
- All operable windows are double sliding and have fully removable screens.
- C-Thru's exclusive virgin vinyl compound is optimized for longevity, made and built in Corona, California in the USA!
- Vinyl will not crack, peel or corrode like wood or aluminum frame material can.
- White & Almond, thru-colored, will never show contrasting scratches and never need painting.
- Commercial rating allows C- Thru's vinyl windows & doors to be used in light commercial projects.
- All windows and doors are fusion welded, hand trimmed, 45 degree corners provide maximum strength and weather protection.
- All dual pane windows use State of the art, warm edge elastomeric separator witch improves window energy performance and longevity.
- All glass is standard C-Thru's exclusive Duralite Glass, with only minimal exceptions.
- All windows and sliding doors have equal site lines for architectural consistency and overall curb appeal.
- All Omega windows and doors use the Best Fin Seal Weather Striping for an extra level of protection gains the weather.
- Thermal cladded walls minimize heat and cold transfer and hide screws and protect caulking from degenerating UV rays.
- All structural member framing is aluminum 6063-T6 hardened alloy.-Solid insulated walls, standard are exterior tempered hard board and interior wood board.
- Areas above and below windows and doors are standard solid insulated panels.


Available options:
Doors Options
· 3' x 6'8" full view swing door
· 6' x 6'8" French swing doors
· 6' x 6'8" sliding door
· 8' x 6'8" sliding door
· 12' x 6'8" bi parting doors (must be on level slab and in a no loadbearing wall).

Glass kick plates, transoms & trapezoid options
· Glass kick plates 12" or 24" tall
· Transoms 12" or 24" tall
· Trapezoids customs size to order

Electrical options
· UL listed Electrical loadbearing header
· UL listed electrical utility mullions
· Interior outlets
· Exterior outlets
· Porch lights
· Light switches
· Ceiling fan/ light race way.

Misc. options
· Tuff Skin, for all solid areas in wall.
· Solar screens
· Window & door grids, available in dual pane glass only.
· Colors, White or Almond



Omega 4" Wall
(Cross Section)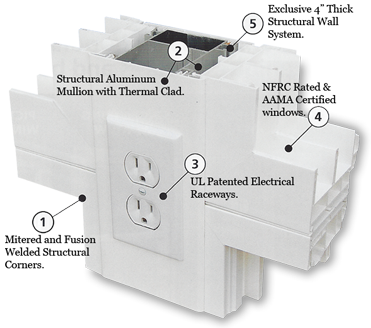 Omega 4" vinyl wall system is the latest and most energy efficient room available on the market today. C-thru takes great pride in knowing that we provide our customers with the most advanced and innovative energy and Eco friendly products.

Our Energy Star, IAPMO, ICC, FBH, UL, AAMA & NFRC rated wall pannels, windows, doors, roof and electrical system are tested and scrutinized by 3rd party evaluation labs as well as government and state agencies, and pass with flying colors. Our products are unmatched in testing and performance. When deciding on your room investment, be sure to demand the best. "DEMAND C-THRU".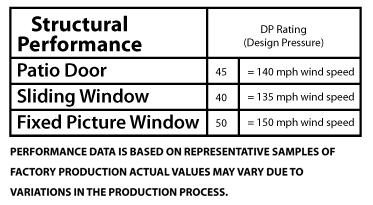 Glass Roof
(Cross Sections)
C-Thru's glass roof system was designed over 25 years ago. Since then it has been continually refined. Over the years we have implemented the latest in glass technology making our sunroom glass roofs excellent when insulating against solar heat. This allows our sunrooms to be more comfortable any time of the year or day. It is considered to be the best roof system of its kind by our competitors. Of course the beauty of the C-Thru glass sunrooms are unmatched, but what you don't see is our intricate design details. For example, the internal weep system keeps any unwanted water from leaking into your sunroom. We even offer optional internal stiffeners that allows you to have a large room without the need of beams and posts inside your living area. Our glass roof is available in the Classic curved eave or the traditional straight eave style.

Glass sunroom roof options
· Curved eave
· Straight eave
· Single pane roof
· Dual pane roof
· Roof shutter system

Structural beam inserts (for heavy snow loads or long projections).



Solid Insulated Roof
(Cross Sections)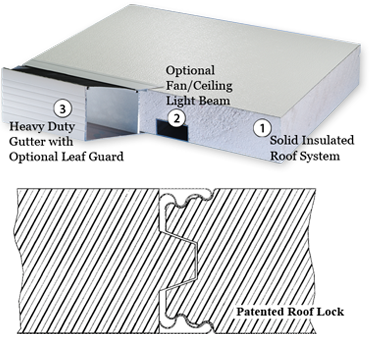 The WeatherGuard structural insulated roof system is C-Thru's own exclusive roof system. This patented roof system comes available in 3", 4" and 6" thick roofs allowing you to design your sunroom for your particular weather climate. Whether it's hot and sunny most of the time or if the deep snows of winter are your concern, our WeatherGuard roof is your solution.

When it comes to elegance no one can beat our WeatherGuard roof system's great looks. Because unlike most other industry standard roofs, C-Thru's roof has a patented snap locking system (joining the roof panels together) eliminating exposed screws and unattractive obstructions in the ceiling. Our exclusive patented snap locking system designed with internal weep channels helps prevent unwanted water from leaking in to your room. Making it hands down the industries most sate-of-the-art system.

WeatherGuard insulated roof options
· 3" thick roof
· 4" thick roof
· 6" thick roof



Glass Opt.

Other than the framing and solid insulated areas, a sunroom is made almost of all glass. With this in mind, glass is one of the most important features to choose correctly when designing your new sunroom. C-Thru offers five unique glass options in its proprietary SmartGlass ™ line. Starting with the SmartGlass 30, it's our most economical option. This is a single pane glass with the least amount of insulation. Our more energy efficient glass option is our SmartGlass 60. This dual pane high performance Lo-E glass is considered to be the "Best Value" when taking insulating abilities and cost into account. However you chose is yours, scroll down the page to learn more about what Smart Glass package will work best for you.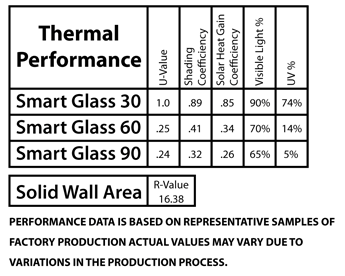 Single pane Glass options
· Smart Glass 30
· Smart Glass 40

Dual pane Glass options
· Smart Glass 30+
· Smart Glass 60
· Smart Glass 90

*Not all glass options are available for every product. Contact your local authorized, independently owned and operated C-Thru dealer for more info.




DuraLite

Safety is also a paramount concern when surrounded by so much glass. C-Thru's exclusive DuraLite™ Glass is 8 times stronger than standard residential glass and is strong enough to withstand impacts without breaking or scratching. DuraLite glass is stronger than laminated and safety glass to protect against accidental breakage. Duralite is standard on all rooms on both single and dual pane windows.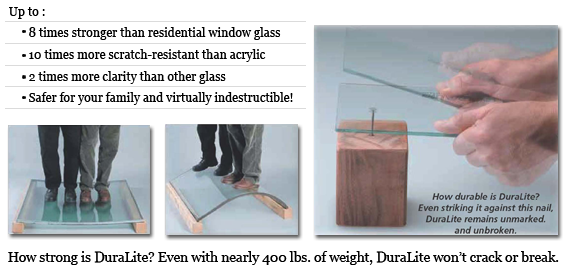 TuffCore

C-Thru Sunrooms are engineered to be energy-efficient to help control your heating and cooling bills. Along with using SmartGlass™, C-Thru uses Tuff-Core™ wall panels and WeatherGuard™ roof panels. These panels are made of a highly-energy-efficient materials. 3" of Tuff-Core™ has as much insulation as 8" of fiberglass to help regulate the temperature inside of your sunroom. Tuff-Core™ wall panels also feature Tuff Skin™, which is a scratch and dent resistant material.

We Serve the Entire Bay Area Including:
And the following cities: