Sunrooms Hayward, CA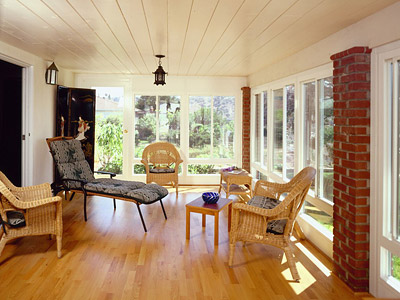 C-Thru Sunrooms No Cal has been creating custom-designed patio rooms for clients in Union City, Oakland, San Leandro, Alameda, Fremont, Newark, San Ramon, Dublin, Milpitas, and Berkeley. Since we opened our business years ago, we have helped countless homeowners in the Bay Area improve the functionality and aesthetics of their homes. The patios that we create can easily become focal points in our clients' homes because of their unique designs and modern patio features.
But why consider adding a patio when working on a home improvement? A patio room is a great addition if you want to increase the functional space in your home. Whether it is a screened patio or a four-season one, it will always be the perfect extension of your indoors. When fully furnished, you can use it for rest and relaxation or for entertaining guests. The patio is also the perfect place for special moments with your family. In addition, a patio room is a low-cost home improvement project so you won't have to worry about the total cost of construction. And if you have us at C-Thru Sunrooms No Cal, you can even get your patio rooms at discounted rates. We can also build these features based on your desired amenities or budget.
Outstanding Patio Room Designs
When you hire our services, you'll be guaranteed of a one-of-a-kind patio room that is custom designed by our well-experienced design team. We combine modern and traditional architecture to come up with excellent designs that will surely make your home more attractive. You can opt for our classic designs to match your home's architecture or you can choose our latest creations if you want a more modern look for your patio.
If you are still looking for patio designs that can suit your design taste, we can help you. We have some exciting designs plans that you can choose from. We can build your patio room using Georgian, Victorian, Edwardian, or Lean-to patio designs. Whichever design you choose, you are guaranteed of a stunning patio that will improve the overall aesthetics of your home.
High-Quality Materials and Top-notch Installation
The patio rooms that we build can last for decades with minimal maintenance efforts. As an example, the patios that we have created years ago for clients in Union City are still in their prime conditions. This means that we only use premium materials and the construction techniques that we use are all industry standard.
We always want to be the industry leader when it comes to patio room installation. That's why we source all our patio materials and accessories from leading manufacturers and suppliers in the country. We use the best hardwood, premium aluminum, and top-quality vinyl clad to ensure the durability of the patio rooms that we create. Our installation crews are also known for their outstanding workmanship, so every patio installation project that we handle can pass the scrutiny of our clients.
At C-Thru Sunrooms No Cal, you are guaranteed of custom-built patio rooms that are energy efficient, structurally sound, exquisitely designed, and budget friendly. Call us now at 510-363-5547 so we can talk about your dream patio.
We Serve the Entire Bay Area Including:
And the following cities: